In Seattle, the topic of barbecue is a controversial one. If it's not the South, some argue, it can never be authentic or delicious. But the Northwest has livestock every bit as high-quality as the local produce, and smoke every bit as smoky for slow-cooking meats and other goodies. Barbecue can be satisfying here, and indeed it is...
Continue reading
Pecos Pit executive Jeannie Hammock says they paid for the flag basket and flags because it's the best they could do for now – they asked SDOT to restripe the faded crosswalk but it has to wait until the Fauntleroy Boulevard project (and even then, improvements there were late additions to the plan) next year....
Continue reading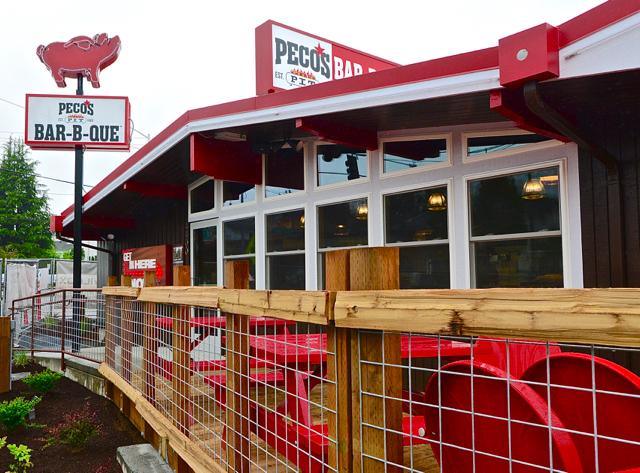 Bound to confound many locally-focused diners and delight others happy to gain more access, the first franchise of decades-old SoDo barbecue stand Pecos Pit opens officially in West Seattle today, following a soft opening last week. Next stop: the world...
Continue reading
If your mouth has been watering since you first heard Pecos Pit Bar-B-Que was coming to West Seattle, you've no doubt seen the work in progress at the corner of 35th SW and Fauntleroy Way...
Continue reading
The man who made Red Robin a national chain has plans for local legend Pecos Pit. barbeque queen Debra Wise will continue to own and operate the flagship branch of Pecos, long ranked among the city's best barbeque, at the low-rent SoDo shack that's drawn steady lines for decades. Wise still owns that business and will keep the secret recipe to the barbeque sauce that husband Ron, who...
Continue reading
BALLARD Bitterroot It might not look like a traditional barbecue joint, but that's because it isn't. The Ballard Avenue–facing dining room is tight but bright and inviting. With a mix of clean, modern, white and metal tables and food served on...
Continue reading
Unlike Memphis, Austin, or Kansas City, Seattle is a seafood town. So it isn't surprising that, for years, it seemed like the only place to find BBQ, America's most famous contribution to the culinary tradition, was some hole-in-the-wall spot like Pecos or... uh, Hole in the Wall BBQ. Not anymore. In the last few years, an abundance ...
Continue reading
Spice-Rubbed Pulled Pork Pig Iron Bar-B-Q Georgetown The barbecue purist need look no farther than Georgetown's Pig Iron, where the spice-rubbed pulled pork ($9.95) comes in succulent chunks glistening with juice, with the sparest amount of barbecue...
Continue reading